Photos of Yester Years

Nuffnang
No Atheists
In A Foxhole
"When you're left wounded on

Afganistan's plains and

the women come out to cut up what remains,

Just roll to your rifle

and blow out your brains,

And go to your God like a soldier"


"We are not retreating. We are advancing in another direction."

"It is fatal to enter any war without the will to win it."

"Old soldiers never die; they just fade away.

"The soldier, above all other people, prays for peace,

for he must suffer and be the deepest wounds and scars of war."


"May God have mercy upon my enemies, because I won't ."
"The object of war is not to die for your country but to make the other bastard die for his.

"Nobody ever defended anything successfully, there is only attack and attack and attack some more.

"Fixed fortifications are a monument to the stupidity of man."
"It is foolish and wrong to mourn the men who died.
Rather we should thank God that such men lived.


The Soldier stood and faced God
Which must always come to pass

He hoped his shoes were shining
Just as bright as his brass
"Step forward you Soldier,
How shall I deal with you?


Have you always turned the other cheek?


To My Church have you been true?"


"No, Lord, I guess I ain't


Because those of us who carry guns


Can't always be a saint."


I've had to work on Sundays

And at times my talk was tough,

And sometimes I've been violent,

Because the world is awfully rough.

But, I never took a penny

That wasn't mine to keep.

Though I worked a lot of overtime

When the bills got just too steep,


The Soldier squared his shoulders and said

And I never passed a cry for help

Though at times I shook with fear,

And sometimes, God forgive me,

I've wept unmanly tears.

I know I don't deserve a place

Among the people here.


They never wanted me around


Except to calm their fears.


If you've a place for me here,


Lord, It needn't be so grand,


I never expected or had too much,


But if you don't, I'll understand."


There was silence all around the throne

Where the saints had often trod

As the Soldier waited quietly,

For the judgment of his God.

"Step forward now, you Soldier,

You've borne your burden well.

Walk peacefully on Heaven's streets,

You've done your time in Hell."


td>
Officers On Exercise........
Sunday, June 05, 2005

Capt Nik Ahmad Shafik, Capt Noordin, NK* and Major Harbans
*NK-Not known, help needed to identify

posted by Major D Swami (Retired) @ 11:30 PM

Lt Col George Edward Simon....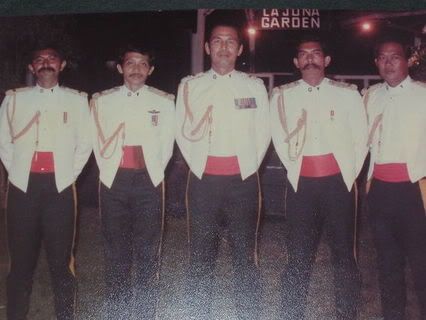 L to R : Major Fauzi, Major Hashim Zakaria, Lt Col George Edward Simon,Major Yusof Sahibjahn and Major Alias
posted by Major D Swami (Retired) @ 11:23 PM

7 Mech's IFV's
posted by Major D Swami (Retired) @ 11:01 PM

Officers on Exercise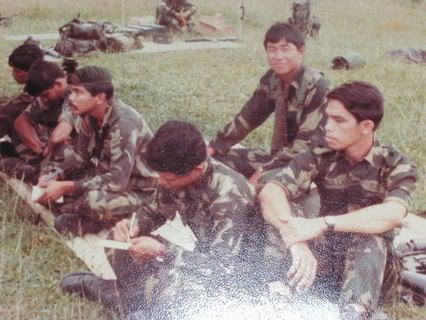 Far Left : 2Lt Raphael Tan, 2Lt Fuad, 2Lt Zainee, Lt Fabian Bangkong 2Lt Abdullah Salleh and behind Capt Wong Heng Ging
posted by Major D Swami (Retired) @ 10:55 PM

CO's Farewell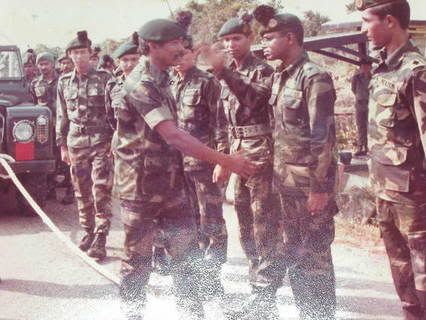 Lt Col Amin, asking 2Lt D.Swami, "How was your commando orientation in Sg. Udang ?". This was during his send off. R to L : 2Lt Nasir, 2Lt D.Swami and Lt Col Amin
posted by Major D Swami (Retired) @ 10:51 PM

Seventies ....
Anyone recognise the people in these pictures ?
1.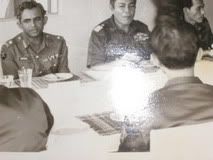 2.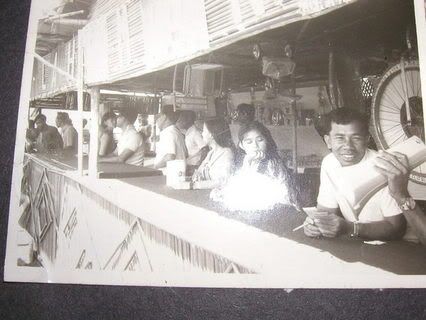 3.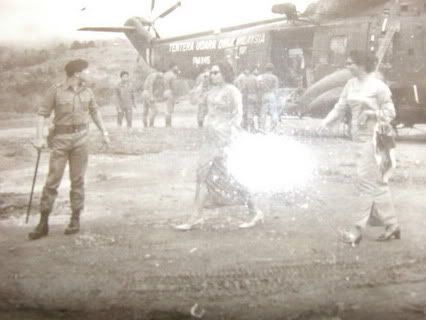 4.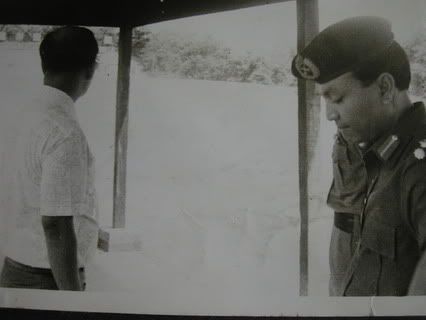 5.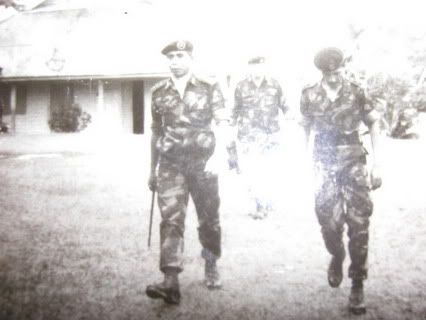 6.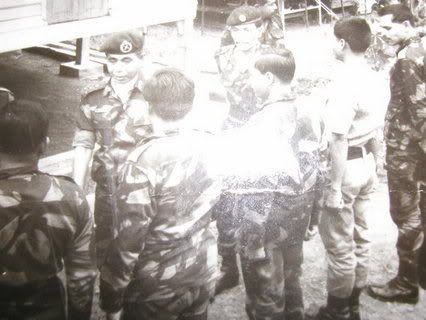 7.
posted by Major D Swami (Retired) @ 10:46 PM

Unit Combat Intelligence Squad

Memebrs of the UCIS getting prpared for deployment around the Rajang Area Security Command (RASCOM) in Sarawak. L to R Abdul Aziz, NK,NK,NK,NK, Daud Shamsuddin, NK Sabullah...... (*NK-Not known, need feedback from anyone to insert names)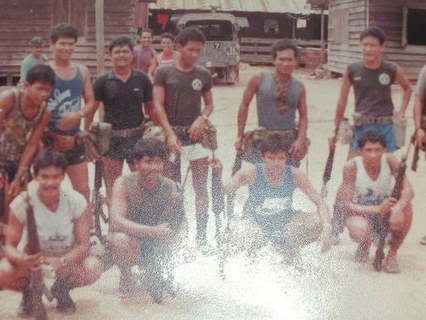 posted by Major D Swami (Retired) @ 10:39 PM

Can you believe these guys, a barbeque in the bush...
Friday, June 03, 2005


A very resourceful Company Q, at that time Ssgt Thangarajan, currently a Captain (QM) on the right. Someone has to e-mail on the identity of the guy to the left.
posted by Major D Swami (Retired) @ 6:41 AM

One of the many python "tales" which were tall and true.....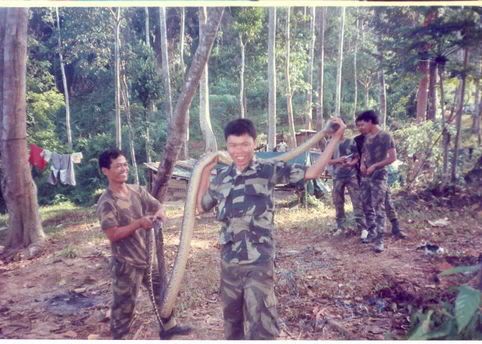 Cpl Katem and his merry men with a very live python. This particular python met it's end when it decided to make Cpl Katem it's meal. You see, Cpl Katem was looking for frogs in a river, whem this long and slithery thing decided to wrap itself around Katem.Cpl Katem is on the extreme left. The person with the python on the shoulder is Ranger Jubileh from Sabah.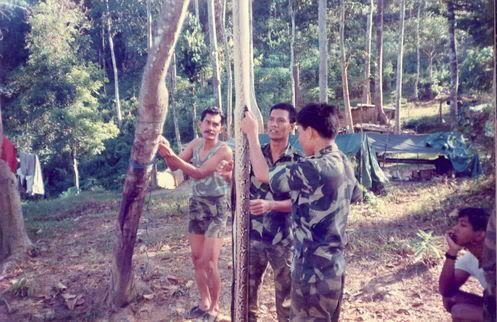 The unfortunate python picked on the Rangers from Sarawak.... The guy with his hands on his chin is Capt Fadzil Sanusi
posted by Major D Swami (Retired) @ 6:22 AM

Dinner With Lt Col Harbajan Singh 1991
Thursday, June 02, 2005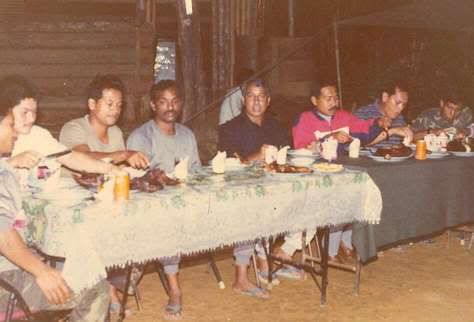 L to R : Not recognised, Capt Chan Weng Poh, Capt Mohd Noor, Capt (Dr) Kathi, Lt Col Harbajan Singh, Not recognised, Major Stephen Mundaw and Capt Fadzil Sanusi
posted by Major D Swami (Retired) @ 2:31 AM

Jagong (Corn) Party
Those recognised L to R : WO2 Ismail Johari(CSM Bravo Company),Cpl Benet Barong, WO2 Jelengai Gawong(CSMI), WO2 Abdul Rahman(Late) and Sgt Benedict (Provost Sgt)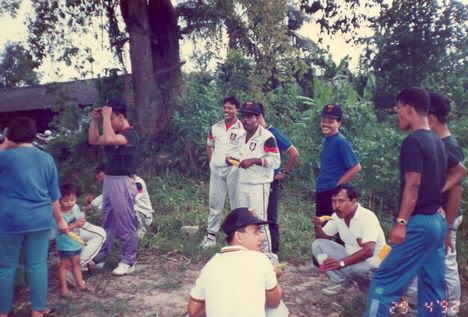 More Jagong..... Know their names ? E-mail to me.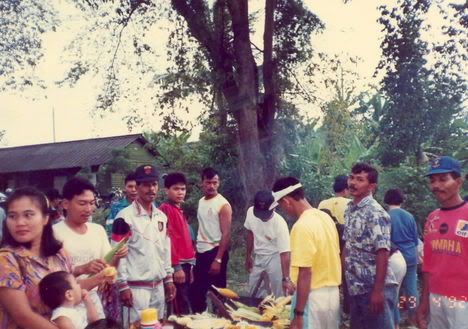 and more... Know their names ? E-mail to me.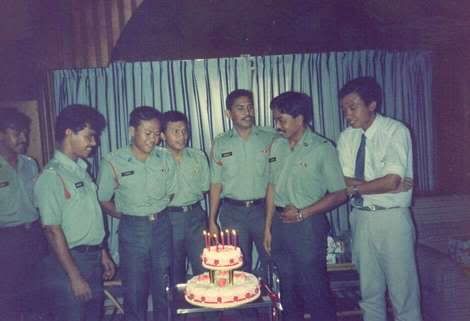 Another party, a birthday celeberation Simanggang, Sarawak 1986.
L to R Lt Syed Alwi, Lt Baharuddin, Capt Christopher Joseph, Lt Gahaffar, Lt Rashid, Major Ezam Wan Chik and not recognised.
posted by Major D Swami (Retired) @ 2:00 AM

Colour Parade and Receiving Condors 1992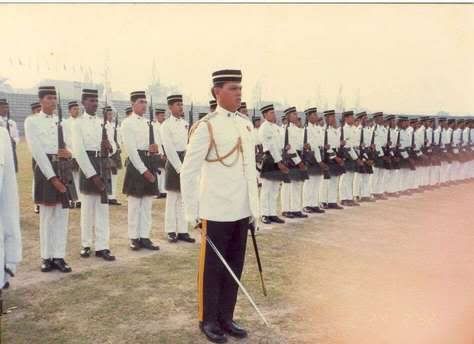 Receiving of the Corps Ranger Colours. This contingent was headed by Major Stephen Mundaw. Colour Parade Commander was Lt Col Zulkapli bin Abdul Rahman in 1992. Ipoh, Perak.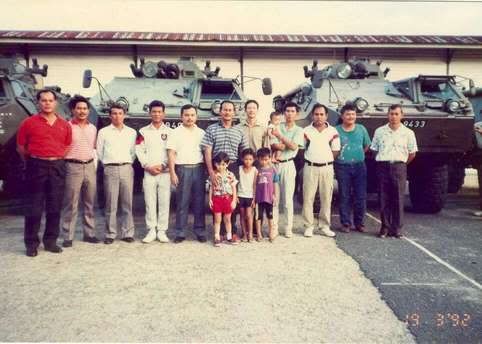 L to R : Major Stephen, Major Onn Wahab, Major Jalul Mahali, WO1 Bong Fan Chang, Major Abdul Razak Che Awang, Lt Col Zulkapli Abdul Rahman, Lt Oo Kee Seng, Lt Zaharuddin, WO2 Naza (RQ Tiger), Sgt Jack Minan and Major Zulkifli Wahab.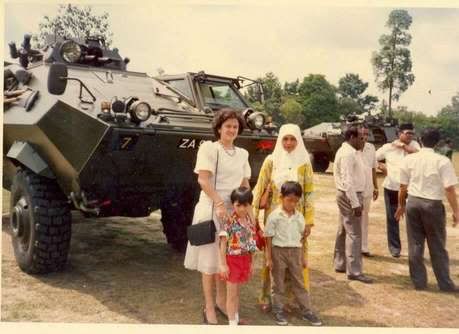 Celeberating the arrival of Condors . L to R : Jacqueline, son Faustino and Kak Aini and son Ee......
posted by Major D Swami (Retired) @ 1:24 AM

ARCHIVES
Previous Post
Links
Links To Rangers
Brothers
Link
Link
Brothers
Brothers
Mech
Brothers
World
Brothers
Advertistment
Advertistment
XXXXXXXX
Advertistment
XXXXXXXX
Advertistment
XXXXXXXX
Advertistment
XXXXXXXX
Advertistment
XXXXXXXX
Advertistment
XXXXXXXX
Advertistment
XXXXXXXX
Advertistment
XXXXXXXX
Powered by